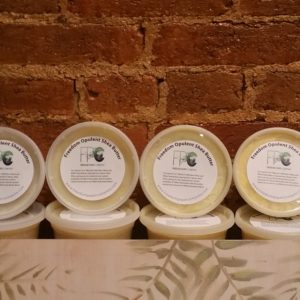 Freedom Opulent Shea Butter- 8oz
Imported from Ghana this is the genuine article with a special twist. At Freedom Paper Company we are always looking to do it in a special way. Our 100% Raw Organic Shea Butter combines the best of both worlds, Raw Yellow Shea Butter and White Shea Butter. We have combined the Yellow Shea Butter containing the borututu tree root which gives it its turmeric yellow color and is known to have the higher amount of medicinal and healing properties with White Shea Butter which is known to have less of the earthy aroma. The result, the wonderful medicinal and healing properties with a balance aroma! We even went an extra step by blending our Freedom Opulent Shea Butter with sunlight!
The results of our work? Freedom Opulent Shea Butter, our version of the skin superfood with natural Antioxidants which protect the skin from free radical damage, which is a cause of premature skin aging, wrinkles and facial lines. Shea Butter is known for being naturally rich in vitamins A, E and F. It offers UV protection (it is SPF ~6) and provides the skin with essential fatty acids and the nutrients necessary for collagen production. Shea butter has been used in Africa and other places for years to improve skin and hair. Shea Butter is known to possibly be helpful for the treatment of the following conditions: Eczema, Acne, Arthritis, Burns, Dandruff, Inflamed skin, Dry skin, Insect bites, Itch, Muscle soreness, Scaly, itchy skin (psoriasis), Rash, A skin infection caused by mites (scabies), Scars, Sinus infection, Skin ulcers, Stretch marks, Wound healing and Wrinkled skin. Freedom Opulent Shea Butter, Get our special sun enriched blend today!